In 2020, the parking industry was presented with an array of challenges that required operators to rapidly adopt new strategies to bolster their business performance. The overall decline in demand across the nation required facilities to compete against each other for their share of the market. To counter the issues created in 2020 and in the future, SP+ clients can gain a competitive advantage by subscribing to this premium Revenue Management Service.
SP+ Revenue Management Service: Leveraging Expertise and Technology to Maximize Revenue
SP+ Revenue Management Service is a premium solution that optimizes online parking reservation prices based on data points such as occupancy, overall demand in the micro trade area, and more.
Available exclusively to SP+ Clients, the Remote Management Service begins with analyzing data acquired from Sphere iQ™, a proprietary suite of industry-leading parking business intelligence technologies developed by SP+. Once the data has been reviewed by a team of revenue optimization veterans, a custom Revenue Management Strategy is designed and implemented. Our team of experts continue to monitor participating' locations' performance and the surrounding competitive landscape, ensuring locations are optimally priced in every scenario.
SP+ Rate Management Service in Action: 528% YoY Online Sales Amidst A Pandemic
As the steep decline in parking demand brought on by the pandemic persisted through the spring of 2020, one SP+ Client located in the heart of Midtown Manhattan enrolled in SP+'s premium Revenue Management Service to help them outmaneuver the competition and expand their market share.
Beginning in June, the Revenue Management Service Team utilized proprietary data and insights to rapidly develop a custom rate-optimization strategy that capitalized on high-demand periods to maximize revenue and attracted price-conscious customers during lower-demand periods to boost occupancy levels.
After deploying the custom rate strategy in May, the facility's online sales performance quickly improved, recording triple-digit percentage year-over-year online sales improvements. Starting in July, the facility achieved a 162% year-over-year improvement and continued to improve through the summer, peaking in September with a whopping 1,334% increase over last September, compared to a 13% increase in online sales reported by the overall NYC benchmark.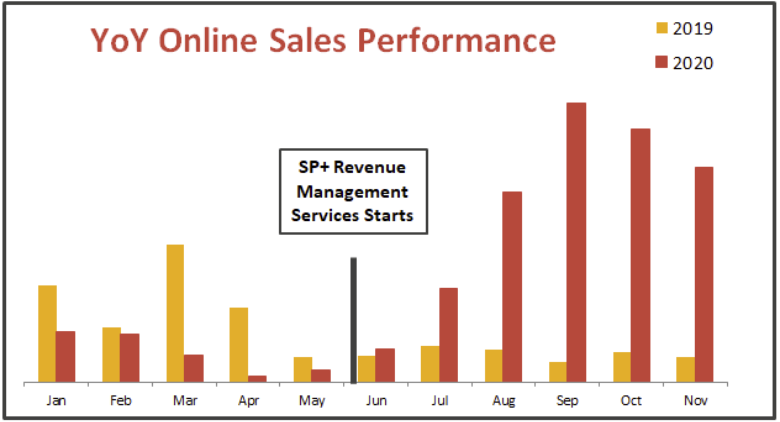 Finding Success in A Mobile-First Environment
2020 was a year that sparked rapid adoption of touchless technologies and transformed mobility behaviors and preferences. Preceding this abrupt shift, consumers were already trending towards a mobile-first world; 2020 simply catalyzed these changes. Therefore, the adoption of mobile as a means to find, reserve, and pay for parking spots has gone from novelty to necessity. The Premium Remote Management Service and the Sphere iQ business intelligence infrastructure provides SP+ clients with the opportunity to take advantage of this trend.
Want to learn more about the premium Revenue Management Service provided by SP+? Submit an inquiry here and a specialist from the Revenue Management team will reach out to you to review how this service and Sphere iQ can be leveraged at your asset or portfolio of assets.