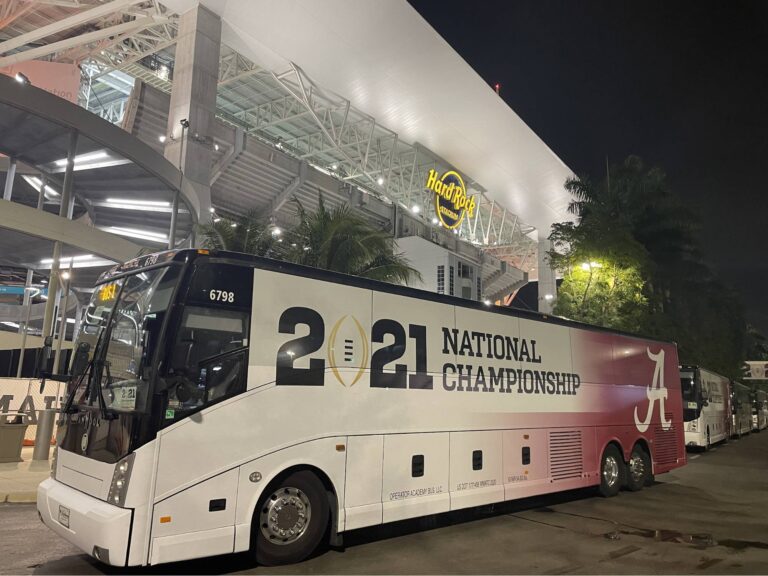 SP+ GAMEDAY has been a transportation services provider to the College Football Playoff National Championship Game week since its inception in 2015. For the National Championship Game in 2021, shuttle services were provided to the following client groups:
Teams
Participating Institution's Official Party
Media
VIP Client Groups
Additionally, SP+ GAMEDAY managed all on site venue transportation of the host stadium and team hotels. Venue parking requirements are collected and permit allocations are made in conjunction with the overall parking and permitting plan for each venue. We work within each venue team in coordination with the Host City and local agencies to develop security perimeters and implement the necessary "no parking plan" for our load zones.
SP+ Action:
SP+ GAMEDAY worked with the College Football Playoff, the Miami 2021 College Football Championship Host Committee and various vendor partners to plan and operate a successful transportation program for the National Championship game. The onset of COVID-19 in early 2020 forced us into a new approach to planning under a compressed timeline. Health and Safety restrictions resulted in more virtual interactions and less time on site for both planning and operations. Changes were made by CFP to reduce the overall stadium capacity, public facing events were canceled and groups who would traditionally play a role in the Championship weekend were asked to stay home. Limiting the number of groups transported did not necessarily mean the number of buses utilized was reduced given the maximum bus capacities were capped at 50%. Social distancing, mandatory mask compliance and a heavy emphasis on cleaning and sanitizing of surfaces played a key role as well.
Results of SP+ Actions: Through the efforts of the SP+ GAMEDAY team, all Client groups were successfully and safely transported in and around the City of Miami in support of the College Football Playoff.